When is the greatest moment to begin making money from your website? Let us let you in on a little secret: your users should always come first, ahead of any monetization approach. Why?
Because your internet audience is your most significant asset. Begin by increasing organic traffic to your website and monitoring user retention. Only then will you be able to realize your monetization strategy's full potential.
Let's have a look at the five most efficient ways to boost your website's monetization in 2022.
1. Invest in Your SEO Strategy
As mentioned in the beginning, you can plan your monetization strategy if you have organic traffic. And, the best way to get it is to create high-quality content with a smart SEO strategy. So that you know, SEO is still going to play an important role for 2022.
What makes a good SEO strategy?
An SEO strategy should be focused on the niche you are in to drive up your rankings. But SEO that worked three years ago won't help you today, so here are the main things you should consider for 2022:
In 2021, the major search algorithm update Core Web Vitals affected many websites in terms of rankings. This update focuses on a better user experience. Make sure your site is responsive and user-friendly.
Focus on targeting long-tail keywords and "People also ask" questions.
These keywords usually have a relatively good monthly search volume (10-1000) but low competition. It's the easiest way to gain rankings on search engines.
Make short and entity-based URLs.
Entity-based is like a context-based word that defines the article.
If you include an entity-based word in your URL, it helps search engines capture the main essence of the article.
In the image below, you can see that if the user writes on the search 'seo', it provides options that most likely will fit the user's search. Then, he can choose the topic instantly–either it's the meaning of the term 'seo' or a name of an artist.

Do internal and external linking. It will help to increase rankings for other articles on your site and build up your backlink profile.
Focus on on-page and off-page SEO.
2. Create Educational Asset for Users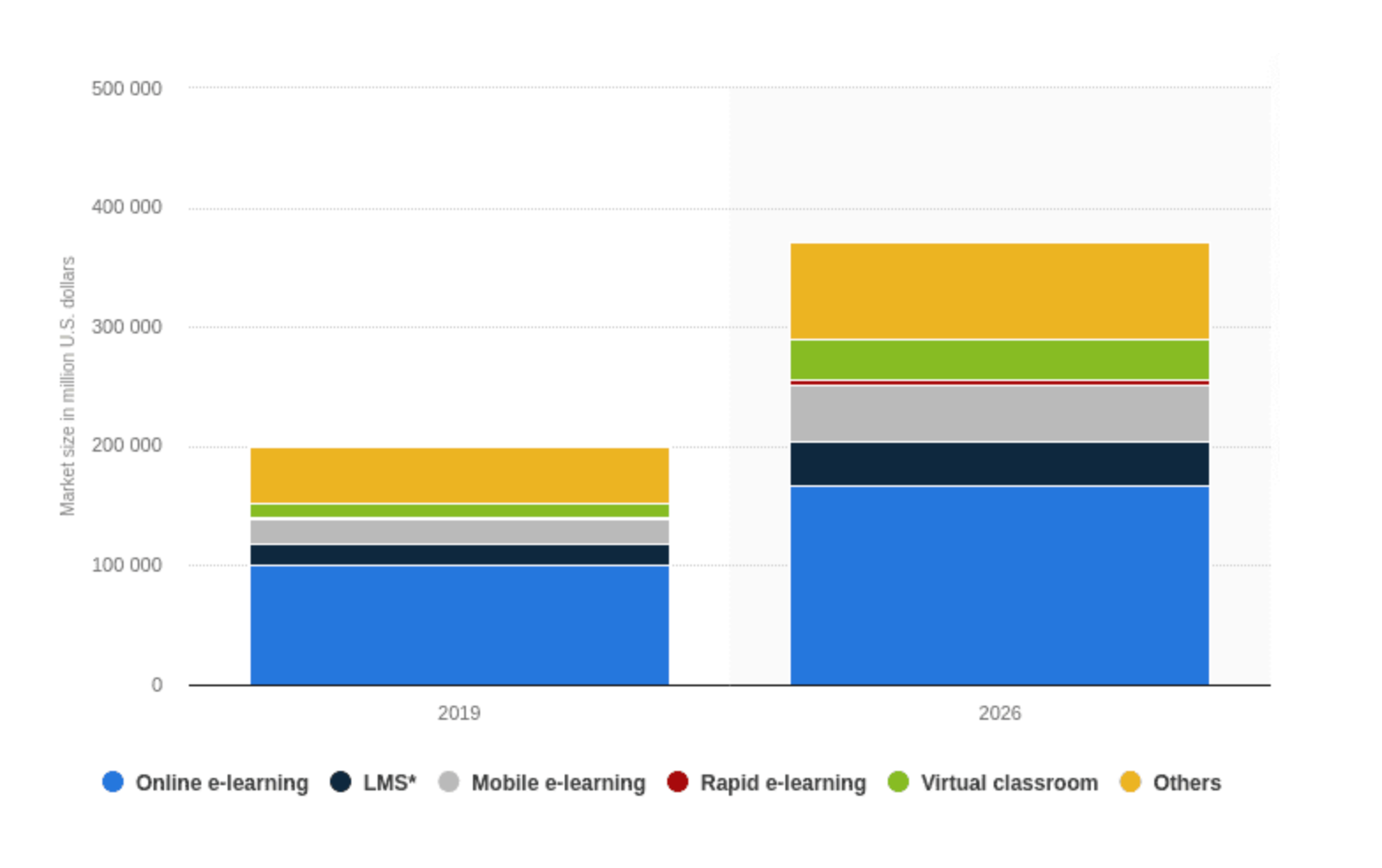 According to the latest stats, by 2026, the total market for e-learning worldwide is predicted to reach 370$ bln.
Source: Statista
This is another way to successfully monetize a website by providing e-learning material like:
online courses;
online training;
e-books, to name a few.
Let's say you are an expert in digital marketing. You could create an online course or even training for beginners on "how to start with digital marketing" and sell it through your website.
The best way to achieve good results is to focus on your niche, where you are the best. Then, you will be able to provide the most useful and valuable information for users.
3. Try header bidding
If your website has monthly traffic over 100K, you should display programmatic ads using header bidding technology instead of Google AdSense.
Why?The answer is simple because you can earn a lot more. And, displaying programmatic ads is one of the easiest ways to monetize your website and generate good passive income.
What are the main differences between AdSense and header bidding?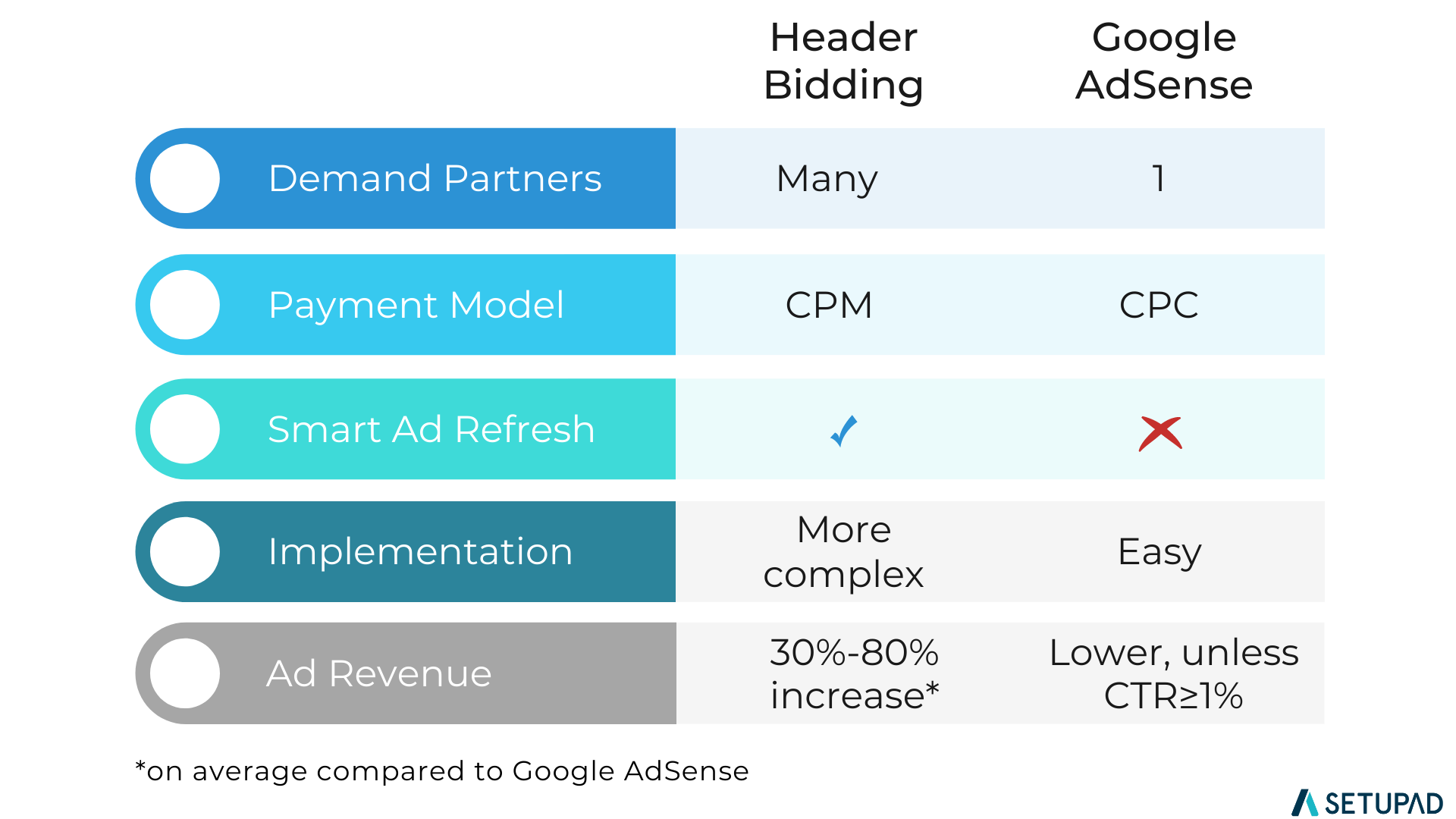 With header bidding technology, your ad inventory is added to more than one demand partner compared to Google AdSense. With AdSense, your ad inventory is sold only to Google.
In header bidding, many buyers, including Google AdX (the highest-paying premium ad exchange for buying ad inventory), are bidding on the same ad inventory simultaneously. Since competition increases, Google is forced to increase their prices, thus increasing total ad revenue for the publisher.
Google AdSense is a good start for new websites with low organic traffic, but when your traffic starts to increase, think of switching to header bidding to reach maximum ad revenue potential.
4. Provide Premium Content Subscription
What is a premium content subscription?
It's a technique of allowing users to consume some of your best articles for money. Premium content refers to content that stands out from other pieces available on your website. Premium, by definition, means something worth paying for.
For example, Forbes uses a subscription model after the user has reached a limit of reading 4 articles on their site. After that, if the user wants to continue reading articles, he is asked to buy a subscription.

5. Try Affiliate Marketing
According to Statista, it is estimated that by 2022 businesses in the US will spend over $8.2 bln on affiliate marketing. This means that becoming an affiliate is still worth it.
As an affiliate marketer, you can promote products or services on your website and get a commission for every sale made by a user.
But how to do it smartly?
Let's be honest here. You don't want to become one of those annoying affiliates who try to sell everything to everyone.
Be an expert in your niche and know what your target audience is searching for.
For example, you became an affiliate for promoting SEO tool X, which you have tested yourself and compared with other tools.In this case, you can write an article that tells users, "Hi, based on my experience, it's really the best SEO tool that I have used."
You should always provide trustworthy information by showing results, like creating a small case study that proves the tool's features.
Always provide value to your readers, not just writing an article to make a sale. It won't work in most cases.
Conclusion
​​​​Monetizing your website can be a great way of increasing your passive income. However, it cannot happen overnight, and it takes one of the most important resources of ours–time. But when you build up your reader base and content that adds value, website monetization becomes like the cherry on top.