---
Ecwid pricing
The free plan
If you've only got a few products to sell (up to 10), Ecwid is entirely free. This is something of a USP for Ecwid — key rivals generally don't offer this sort of free functionality.
The free plan is pretty basic, with key features like discount coupons and the ability to sell digital goods being unavailable, and it only allows you to sell up to 10 products in 2 categories.
But for merchants with simple requirements, this may actually be sufficient; and using the free plan is a good way to try the product out.
Probably the most important thing to note about the free plan is that it is not great from an SEO point of view — you need to be on a paid plan to ensure that your product pages talk to search engines in the best way possible.
(I'll discuss SEO in more depth later on in the review.)
The paid plans
In terms of the paid plans, the pricing structure is as follows:
$15 per month – the 'Ecwid Venture' plan — this allows you to sell up to 100 products;
$35 per month – the 'Ecwid Business' plan — this allows you to sell up to 2500;
$99 per month – the 'Ecwid Unlimited' plan — this allows you to sell an unlimited number of products.
All the above products allow you to make use of up to 10,000 product categories.
If you pay for Ecwid annually, things works out cheaper: the three plans come in respectively at $12.50, $29.17 and $82.50 per month.
As you might expect, the more you pay, the more additional features you get – discount coupons, full point-of-sale features, better support and so on.
Key differences between the Ecwid pricing plans
A few key differences in the Ecwid plans to watch out for are as follows:
The 'Venture' plan does not allow you to list your products on established marketplaces (Amazon, E-bay and Etsy).
Although point-of-sale functionality (POS) — which allows you to use a card reader to sell in physical locations — is available on any paid plan, only the most expensive 'Unlimited' plan unlocks full POS functionality and an integration with leading POS apps (Square, Vend and Clover).
The 'Venture' plan is quite restrictive in terms of how it allows you to display your products: on this plan, you can't use product variants or allow users to make use of product filters when browsing your store.
The 'Venture' plan does not allow you to edit existing orders (or create ones manually) — you'll need to be on a more expensive plan to be able to do that.
Automatic abandoned cart recovery is only available on the 'Business' plans and higher.
With the 'Business' and 'Unlimited' plans, you can avail of some consultation time when setting up your store (2 hours and 12 hours respectively)
Phone support is only available on the 'Business' and 'Unlimited' plan.
Fully customisable invoices are only available on the 'Business' and 'Unlimited' plans.
Let's drill down into some of Ecwd's key features.
---
Payment gateways
With Ecwid, you can process credit cards 'out of the box' using Paypal, with no extra charge other than Paypal's commission.
There are also around 70 other payment gateways you can connect to Ecwid (these include established providers like Sage, Stripe, 2Checkout, Authorize.Net and many others). Some are country-specific, so the exact range available to you will depend on your location.
Other online store solutions such as Shopify provide more options in this regard, but the range of payment gateway integrations available with Ecwid is definitely at the more comprehensive end of the spectrum.
Remember of course that using these payment gateways often means paying a monthly fee. You may find it best to start off with Paypal and add a payment gateway down the line, if and when your volume of sales justifies it.
---
Point-of-sale functionality
Thanks to Ecwid's point-of-sale (POS) functionality, you can use your Ecwid store to sell not just online but in physical locations too – in stores, market stalls, at concerts and so on.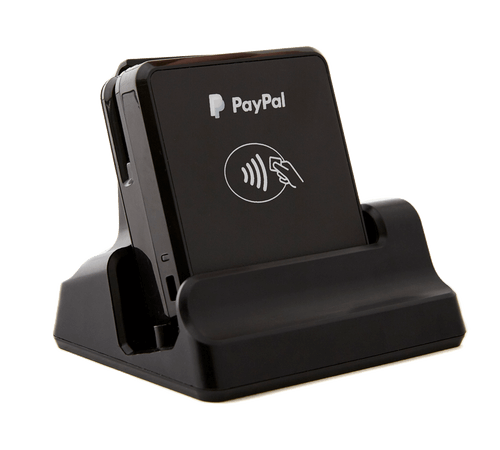 With Ecwid's POS functionality, regardless of whether a customer buys a product in store, online, on their phone or via Facebook, everything stays in sync — i.e., the merchant's catalog, inventory and customer / transaction information.

There's a few ways you can use this feature: the simplest is probably to use 'Paypal Here.' This involves downloading the Ecwid iOS app from the Apple's App store, connecting it to the Paypal Here service, and then taking payments using a mobile card reader (pictured above).
You have two choices when it comes to POS hardware and Paypal Here: you can either buy a chip and swipe reader (for $19.99) or a chip and tap reader (for $99.99). Both can be ordered direct from Ecwid; it's important to note however, that this functionality is only available to merchants based in the US or UK.
If you're based outside the US or UK, or want to work with another mobile device type, the good news is that Ecwid also works with the Vend, Clover, NCR Silver and Square POS systems. These all facilitate using a wider range of hardware in a physical retail location (full-sized card readers, receipt printers, cash drawers tablet stands etc.) and are usable in more countries.
Although you can avail of the Paypal Here POS option on all Ecwid paid-for plans, you'll need to be on the most expensive 'Unlimited' plan if you want to avail of a Vend, Clover, NCR Silver or Square integration.
---
Language detection
Ecwid is ahead of the pack in that its storefronts can be automatically translated into nearly 50 different languages – customers can view your store in their own language, without you having to worry about creating alternate versions of it.
Ecwid provides this functionality by detecting visitors' language automatically based on their browser settings / IP address.
Competing products like Shopify and Bigcommerce are yet to provide this sort of functionality out of the box – they force you to rely on third party apps, the creation of multiple stores or Google Translate to provide different language versions of your store, which is less than ideal.
So a definite win for Ecwid here.
---
Importing and exporting data
Like many competing products, Ecwid allows you to import and export your data in to the platform using CSV format.
When importing via CSV, you can make use of 25 different columns, each representing a particular product attribute (product name, SKU, URL for product image and so on). Your import file can be delimited by comma, semi-colons or tabs.
The export option, as you might expect, allows you to export product data, orders and customers (again, in CSV format) and means that if you ever feel the need to migrate your store to another e-commerce platform, you shouldn't have any major problems doing so.
---
Search engine optimisation (SEO) in Ecwid
The key things to watch out for with SEO features in store building products like Ecwid are as follows:
how easy it is to key elements like page titles and meta descriptions
how easy it is to create clean, search-friendly URLs
how fast you can get a product page to load
The good stuff first: you can edit the title of your page and its meta description easily; the relevant fields are pre-populated for you automatically, but you can tweak them to suit your SEO objectives.
Less good is the fact that you can't manually change the URL of a product — you have to make do with the one that Ecwid generates for you.
This is not ideal because keywords in URLs are used by some search engines to categorise content during indexing. However, the URLs that are automatically generated by Ecwid include the title you've given to your product — so if you include some keywords in your product title (not a bad idea anyway) your URL will include them too. This serves as something of a workaround, but I'd prefer full control over URLs.
Another area where Ecwid doesn't perform quite so well on the SEO front involves AMP — accelerated mobile pages.
As the name suggests, AMP pages load faster on mobile devices. This encourages people to stay longer on your page, thus increasing 'dwell time' — something which is believed by many SEO experts believe to be rewarded by Google with preferential treatment in search results.
Additionally, Google sometimes highlights AMP pages in carousels in search results, giving AMP content an extra little boost.
Unfortunately however — and unlike competing products such as Bigcommerce or Shopify, you can't create AMP versions of your products using Ecwid.
Although there's room for improvement with regards to SEO in Ecwid, I wouldn't necessarily view its current deficiencies in this area as a showstopper; it's important to remember that link building and having great content on your site are as important to SEO as the technical aspects of SEO.
(For some general pointers on SEO, you might want to check out our 'Making your site visible' post).
---
Apps and plugins
In common with a lot of other e-commerce platforms, Ecwid provides a number of integrations with other web apps (via its 'app market').
However, the number of integrations available with well-known services is fairly limited (there are around 140 available). Integrations do exist with key products like Mailchimp, Xero and Freshbooks; but competing products such as Shopify offer a much broader range of established apps.
The picture is better when it comes to CMS plugins: these are available for WordPress, Wix and Joomla, allowing to you install Ecwid on one of these platforms very easily.
---
Dropshipping in Ecwid
Dropshipping is a sales and fulfilment approach where you don't keep what you're selling in stock: you take the order, send it to a supplier, and they deliver the goods to your client — your store is in effect a middle man of sorts.
You can dropship in Ecwid by adding either the Wholesale2B or Printful apps, which are both available from Ecwid's app store.
The Wholesale2B app allows you to add variety of products from over 100+ dropshipping suppliers to your Ecwid store; the Printful app allows you to create products featuring your images or logos (you upload them to Printful, who then manufacture the product and ship it).
Other platforms do provide integrations with more dropshipping providers, but on the plus side, Wholesale2B and Printful are well-established providers.
As always with dropshipping, for ethical reasons you may wish to perform some due diligence on how (and where) any products you are featuring on your site are being produced. Suppliers of dropshipping goods don't always have the best track record when it comes to working conditions in their factories.
---
Ecwid "Instant Sites"
Although Ecwid has traditionally been a product which lets you add an online store to an existing website, it now allows you to set up a standalone store too, called an 'Ecwid Instant Site.'
It has to be said that this is a very basic, one-page affair — but it's nonetheless potentially useful, and definitely represents a good 'stopgap' measure for merchants who wish to start selling with Ecwid but have not yet finished developing their full site (on, say, WordPress).
You can either host your starter site on the Ecwid domain (i.e., mystore.ecwid.com) or map it to your own domain (www.yourstorename.com).
An Ecwid "Instant Site" is not a substitute for a proper online store (mainly because you can't blog on one, which in turn will hamper your ability to use inbound marketing to generate sales).
However, it will come in very handy for many merchants, and is a much better than a traditional 'site under construction' holding page.
And, although Ecwid's Instant Sites are rather basic in nature, they do nonetheless provide users with one of the cheapest ways possible to build a standalone online store — you can get one up and running from $15 per month, which compares positively with Squarespace, Shopify and Bigcommerce. All these products charge upwards of $26 per month to let you create a standalone store (but that said, the end result will be considerably more sophisticated than an Ecwid Instant Site).
---
Tax calculations
Ecwid is ahead of the pack when it comes to tax rules — you can set things so that visitors' locations are automatically identified (based on IP address) and the relevant tax rate applied automatically.
Helpfully this applies not just to physical products but digital ones too — Ecwid caters adequately for the EU's VAT MOSS requirements, something that can't be said for all other competing platforms.
---
Multi-currency selling in Ecwid
You typically get more online sales if you sell your products in the currency used by your store visitors.
So, if you're selling your goods in a lot of different countries, it's a good idea to let your potential customers select their own currency — or better yet, have your store present your products in the local currency automatically.
To do this in Ecwid, you need to install the 'Currency Converter' app (pictured below), which costs $4.49 per month.
The Currency Converter app makes it very easy to display prices in local currencies automatically, but unfortunately this doesn't carry through to checkout — the original currency gets displayed again at the final stage of the purchase, which may put some buyers off.
So, some room for improvement here.
---
Using Ecwid with other platforms
Ecwid and WordPress
WordPress doesn't provided any e-commerce functionality out of the box, so anyone wishing to sell on the platform will need a third-party solution like Ecwid.
There is a dedicated Ecwid plugin available for WordPress, so adding an Ecwid store to your WordPress site is very straightforward — you can get up and running with a few clicks.
You just sign up for an Ecwid account and then install the free plugin.
Ecwid and Squarespace
Squarespace comes with increasingly good e-commerce features, but it doesn't currently facilitate multi-currency selling.
Integrating Ecwid with Squarespace allows you to bypass this limitation, and adding it to a Squarespace site is very easy: it's a simple matter of adding a code block to a page and pasting some HTML into it.
(As discussed above, however, currency conversion in Ecwid requires an app to be used, and seems to be limited to price display only — checkout is not currently catered for).
---
Interface and ease of use
Ecwid's interface is pretty easy to use.
Like many similar online store builders, you get a vertical menu on the left which allows you to access key functionality, and the area on the right is used to display or edit associated products, site content and reports.
As with any e-commerce tool, you'll need to spend a bit of of time getting your head around creating catalogues and product variants, setting up shipping rates and so on…but there is nothing here that should represent too much of a learning curve.
Matters are helped by an 'onboarding checklist' that is provided to you when you log in for the first time.
If you get stuck however, you can always get in touch with Ecwid's support team – more on that later — or, if you're on a 'Business' or 'Unlimited', you can take advantage of the included customization service (you get 2 hours and 12 hours customization time from Ecwid on these plans respectively).
---
Ecwid and GDPR
Please note: I am not a lawyer, so the below observations should not be interpreted as legal advice.
Since May 2018, business and website owners have a lot of additional legal responsibilities as a result of the EU's GDPR (General Data Protection Regulation) rules.
There are several legal steps that the GDPR requires business owners to take to ensure compliance, and fairly serious penalties for not doing so (to the point where it's a good idea to consult a lawyer about precisely what to do), but the key ones for prospective Ecwid users are probably as follows:
Display adequate privacy and cookie notices on your website.
Process and store data securely.
Get explicit consent from people signing up to mailing lists that it is okay to send them e-newsletters.
Provide a means to opt in or revoke consent to use of non-essential cookies on a website (and to log that consent).
Meeting the first three requirements with Ecwid is pretty straightforward.
Meeting the fourth requirement is more difficult, though. Whenever you use non-essential third party cookies on a website — for example a Facebook Ads pixel or a Google Analytics tag — you are legally obliged to give EU visitors to your website the option to switch these off before they continue to browse your store (even if your site is based outside the EU).
You are also obliged to log EU users' consent to any non-essential cookies being used, and give them the option to revoke that consent at a later stage. Cookie banners are usually used to facilitate this, but the old 'By using this site you are consenting to cookie usage…' statement on a banner is not good enough any more — you need something more sophisticated.
The good news is that Ecwid comes with a built-in cookie consent feature — this allows you to display a cookie notification message and allow users to either accept or decline use of cookies.
This stops any scripts from Google Analytics, Google Ads, Pinterest, Snapchat and Facebook being run until a user has agreed to this, and you can also use it to prevent any order confirmation tracking code being run without the user's consent too.
Whilst this feature is not as customisable as dedicated cookie banner tools like Cookiepro, and it's a bit unclear as to whether or not it allows users to revoke access to cookies at a later date (my understanding is that this will involve making a request to Ecwid), it's nonetheless great to see a hosted solution offer a cookie consent banner that ticks the main GDPR boxes.
---
Support
The level of support you get from Ecwid depends on the type of plan you're on.
If you're on the free plan, you can avail of email support; if you're on the $15-per-month Venture plan you can expect email and live chat support; and if you're on a Business ($35) or Unlimited plan ($99) you can expect phone, live chat and email support.
This stacks up reasonably well against the support offerings of other similar products, not all of which provide phone support.
---
Ecwid review conclusions
Ecwid is a cost-effective, powerful way to add e-commerce functionality to an existing site, or to place an online store on a Facebook page or other social media presence.
You'll find a full summary of its pros and cons below, but the main things I like about it are its generous free plan; the way it can be used with any type of website; and the fact that it can add dropshipping functionality to platforms that don't offer it (notably Wix and Squarespace).
There is, however, room for improvement when it comes to SEO.
As ever, it's a case of try before you buy, and you can register for the free version of Ecwid here.
---
Pros and cons of using Ecwid
Pros
A totally free Ecwid plan is available, which is fairly generous in terms of features.
Ecwid represents a really simple way to add e-commerce to any existing website.
The product is cheap by comparison to other solutions.
Point-of-sale functionality is available, and there are quite a few ways to implement it.
It supports multi-language versions of your store.
Tax rates are applied automatically, meaning that you don't have to worry about setting up state tax or VAT rules manually.
The store designs are responsive.
Plugins / apps are available for major platforms (like WordPress, Drupal and Wix).
The 'Instant Sites' option is a good (and cheap) stopgap measure for merchants who need a store quickly.
A (broadly) GDPR compliant cookie consent banner is provided out of the box — this is very welcome, and a feature that is quite unusual for hosted solutions to provide.
FREE ECWID PLAN
Cons
Phone support is only available on the more expensive plans.
There is a limited number of apps / integrations available in the Ecwid App store.
Although multi-currency selling is possible with Ecwid, it involves an additional paid-for app, and you can't check out in a local currency (only prices are displayed).
You can't change product URLs, which isn't ideal from an SEO point of view.
You can't create AMP versions of product pages using Ecwid.
Full POS functionality is only available on the most expensive plan.
The free version doesn't let you access any of the SEO features.