Growing your email list and interacting with customers is simple with email drip campaigns.
An email drip campaign is an automated set of emails sent based on a certain schedule or on user actions.
There are six main steps to creating a drip campaign, including identifying your audience, planning the campaign, and analyzing the results to optimize future campaigns.
The benefits of drip campaigns include boosting engagement and increasing brand awareness.
This article is for small business owners who want to improve their email engagement rates and reach more of their target audience by email.
Email marketing is a great way to engage with and learn about your customers. Drip campaigns make the process easy by automatically sending out emails based on certain actions or schedules. You can use email drip campaigns for anything, whether that's welcoming new customers or converting new leads into return customers. Plus, they are straightforward to set up and use.
Keep reading to learn what email drip campaigns are, how to create your own campaign, and the benefits and examples of successful drip campaigns.
What is an email drip campaign?
A drip campaign, also called automated marketing or an automated email campaign, is a series of emails sent automatically based on a set schedule or user action. Drip campaigns aim to deliver the right information to the right person at the right time. For example, you can set up campaigns so that anyone who signs up for your email list receives a welcome email, while a visitor who's been perusing your products page for a few days but hasn't yet made a purchase receives an email with pricing information.
You can segment your email list however you see fit and assign different triggers to different groups to make sure your email content is targeted as precisely as possible. Drip emails are written ahead of time, and the emails can be personalized with the recipient's name and other information specific to them. 
"Drip campaigns are a great way to stay top of mind with your current and potential clients," said Sir Sanju Ganglani, the chief marketing officer of Compound Banc. "It allows you to send content that is relevant to their interests and prompt either purchases or referrals."
They are also a great way to save time. These automated campaigns ease the burden of sending manual responses to each individual customer. Notably, according to research from the marketing automation service GetResponse, autoresponse cycles comprising one email resulted in a 90.09% open rate and a 27.06% click-through rate. These numbers are much higher than GetResponse's corresponding figures for all marketing emails sent in North America – 23.53% and 3.86%, respectively.
How do you create an email drip campaign?
Here are six simple steps for creating your own drip campaign.
1. Identify your audience and triggers.
The first and most important step of a drip campaign is to identify the target customers who should receive the emails. You need to segment your audience and decide which triggers and groups you will use to reach them.
Drip campaigns are based on two kinds of triggers: either an action or a piece of demographic information. An action trigger would be a user who subscribes to your email list and to whom you send a welcome or onboarding email, or a user who makes a purchase and to whom you send an order confirmation or receipt. A demographic trigger could be a user's birthday that prompts an email wishing them a happy birthday from your company and giving them a discount code.
Identifying your audience is a great way to personalize your drip campaigns and provide your customers with the information they need at the right time, which can go a long way in making them feel valued and turn them into repeat customers. Target customers based on visit frequency, clicks and user behavior.
2. Determine your goal.
The second most important aspect of creating a successful email drip campaign is to establish your goal. A defined goal makes planning the remaining elements of your campaign and staying focused throughout the process easier. Use the SMART method when setting a goal – making it specific, measurable, attainable, relevant and time-based. What do you want to happen as a result of the drip campaign? That is your goal.
3. Write your email.
Now that you know your target audience and your goal, use that information to craft your email copy. You want your email to be helpful, to grab attention, and to have a clear call to action (CTA). Think about what you want the user to do or what you want to accomplish. Do you want the recipient to make a purchase? Do you want to share information about a product? The text should reflect that. Make sure your message is clear and true to your company's brand and voice too.
4. Plan your campaign.
To ensure the success of your drip campaign, plan it out from beginning to end. This includes deciding how to segment your customers, setting your goal, and determining how you'll measure the campaign's performance. These are the main factors to think about when planning your drip campaign.
Who your audience is and why
The goal of your campaign
How many emails you will send and in what order
Whether your triggers match your message
How you will measure success (i.e., what types of analytics you will use and what numbers you will track)
5. Launch your campaign.
When you've determined your audience and goal, written your copy, and decided which numbers to track, you're ready to launch the campaign. You can either implement your own drip campaign software or take advantage of some of the best email marketing solutions or marketing automation software. These tools make it easy to build emails and schedule them for automatic sends based on different triggers.
6. Analyze the campaign.
You should analyze your drip campaign both during and after its implementation to get an accurate view of its performance. Use the metrics you decided on when you planned your campaign, pinpointing areas where the campaign performed well and where you can improve the next time you send it out. One of the easiest ways to capture key analytics is to tag links in your emails with Urchin Tracking Module (UTM) parameters, short text codes that ensure information is passed on automatically to Google Analytics. [Check out our beginner's guide to using Google Analytics.]
What are the types of email drip campaigns?
These are some of the many types of drip campaigns you can set up.
Welcome emails
Welcome emails introduce a new subscriber to your company and welcome them to your virtual community. They add a personal touch to your business and let customers know what to expect from your emails. They can include a discount code to thank the person for signing up.
Onboarding emails
Onboarding drip emails are similar to welcome emails in that they are sent early on in a customer's journey with your business, but they provide more hands-on information about your business than the typical welcome note. Onboarding emails might make users aware of anything particularly important about your company or product, explaining how you stand out from competitors in the market and providing contact information in case the customer encounters any issues with your organization. These emails can also detail the next steps the person should take to get the most out of your business.
Shopping cart abandonment emails
Shopping cart abandonment is when a visitor places an item in their online shopping cart and then leaves your website without making the purchase. You can use drip campaigns to automatically send an email to the visitor when this happens, reminding them of their intent to buy something.
Subscription renewal emails
Use a drip campaign to remind customers of an upcoming subscription renewal to help establish your company's validity and make your customers feel valued. In the email, thank your customers for their business and make it easy to unsubscribe if they wish.
List-building emails
You can also send out a drip campaign targeting new visitors to your website asking them to opt in to receive emails from you. This is an easy way to build your mailing list with customers who are genuinely interested in your business and likely to engage with your content.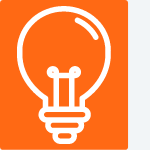 Tip: Create several kinds of drip campaigns tailored to different actions your audience might take. Make these emails relevant and targeted for the best results.
What are the benefits of an email drip campaign?
Drip campaigns have many advantages if you implement them properly.
"The benefit of a drip campaign is that you can create a path that can lead to a customer following an action point, even if they didn't open the first email you sent out," said SEO consultant Daniel Foley Carter. "Constant messaging can be a deciding factor in the behavior of your customers – doing it right can mean that your brand will be stuck in their subconscious, therefore allowing you to make the most out of the opportunity."
These are some other benefits that come from email drip campaigns.
Better customer engagement
Drip campaigns can have a positive effect on customer engagement by providing an easy and consistent flow of communication between your business and the customer. This is why email targeting is so important – if a customer feels you know them and speak directly to them and their interests, they are much more likely to engage with your email content.
"A drip campaign is critical to establishing a connection with your subscribers," said Charlie Camisasca, owner of The eCommerce Boardroom. "The email inbox is an intimate place, and as a result, you can really boost lifetime customer value through email marketing."
More content opportunities
If you have pertinent content like blog posts or newsletters, drip campaigns are a great way to get that content in front of your customers. Include content that explains your products, showcases your employees, or answers frequently asked questions. [Get tips on what your email marketing campaigns should include from a content perspective.]
Lead nourishment
You may have customers who are interested in making a purchase, but need more information and some lead nurturing before doing so. A drip campaign that is triggered, for example, by a potential customer spending significant time on a certain page of your website can nurture leads by providing the prospective customer with the information they seek and nudging them through the sales funnel toward a purchase.
"It's through walking [your audience] through the whole procedure that you will be able to build trust and credibility with them," said Sandra Matthews, marketing specialist at The Product Analyst.
Increased brand awareness
Sending emails consistently can keep your company top of mind and make it easy for your existing customers to refer your business to other people in their network. It's one way word-of-mouth beats traditional advertising.
Connection with disengaged contacts
If you have contacts on your email list who don't regularly engage with your emails, target content to them with an engagement-driven drip campaign. For example, sending a message with the subject line "Hey, we miss you!" directly to those customers can potentially reengage them. Then you've changed a passive subscriber to an active one, which is a win in and of itself. From there, they might make a purchase.
Returns to abandoned carts
Many customers place items in their online shopping cart, then leave your website without making a purchase. You can trigger promotional emails based on this action to send the customer a reminder of what they left in their cart, redirecting their attention to the pending purchase. The more visitors return to their abandoned shopping carts, the more products you'll sell.
Improved customer customization
One of the biggest advantages of drip campaigns is how much you can customize and tailor them to your target audience. You can use all kinds of information – including demographics, user behavior and clicks – to determine how you will create your campaign and then use your analytics to evaluate the campaign's success. It's a double-win: better customization can lead to more conversations, and what you learn from the campaign can lead to even better customization in the future.
Automatic movement through the buying funnel
Drip campaigns can be a highly effective way of converting leads without being overly sales-y or expending too much effort because they can automatically send the customer the information they're looking for at each step of their buying or knowledge journey.
"Using a drip campaign allows you to acclimate the potential customer," said Rex Freiberger, co-CEO of Gadget Review. "Most people need to see an offer several times before they'll bite. A drip campaign does this perfectly."
Higher efficiency
A major feature of drip campaigns is that they're set up ahead of time and sent out automatically, which means you have very little maintenance to do. That boosts efficiency and gives you more time to focus on other aspects of your business.
"You can create a drip once and let it deliver the well-crafted emails to the right people at the right time, without manually having to deliver the emails," said Tarah Darge, head of marketing at Move.
What are examples of successful email drip campaigns?
To help you better understand what a successful email drip campaign looks like, here are three examples from top companies.
Netflix's win-back campaigns
It happens often: You had a happy customer, then something made them decide to leave, unsubscribe or no longer do business with you. This is where reengagement tactics come in – specifically, launching a drip campaign to earn back the customer's business. One company that does this well is Netflix, with its simple, clear and effective win-back campaign.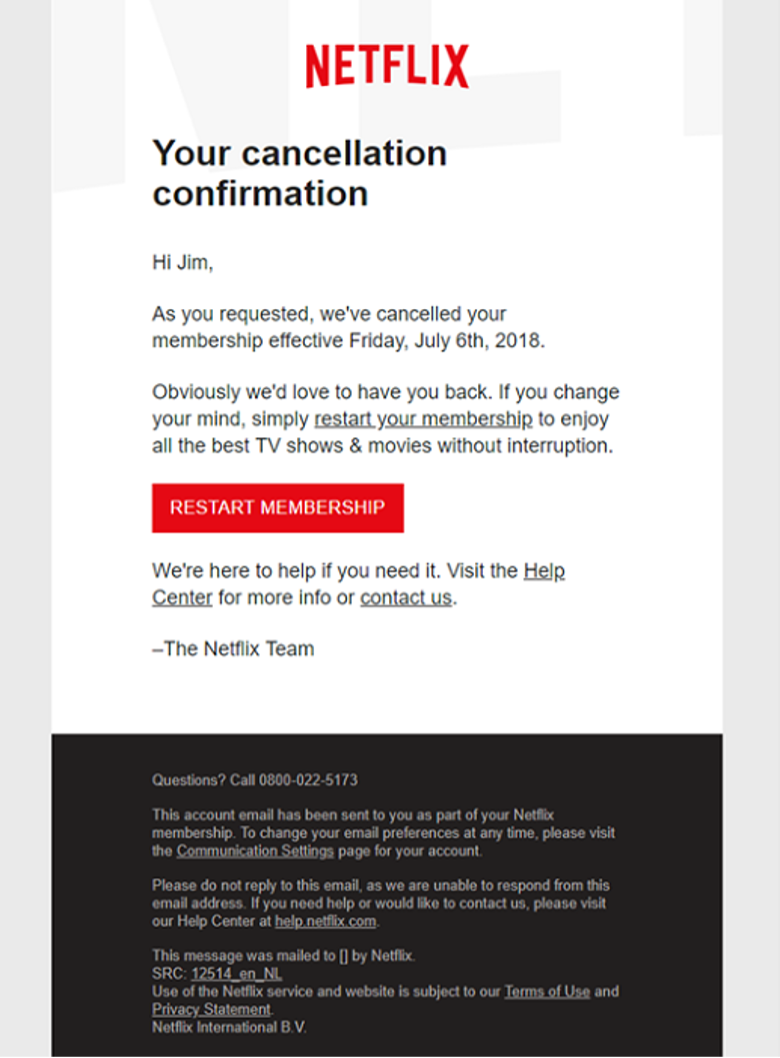 Source: Moosend
The campaign starts with an acknowledgment of the customer's choice to cancel their membership and a clear CTA to resubscribe, as well as easy-to-find contact information. But the thing that often wins customers back is what Netflix does over the next few months – the company sends automated emails with its latest movies and shows to entice customers to return.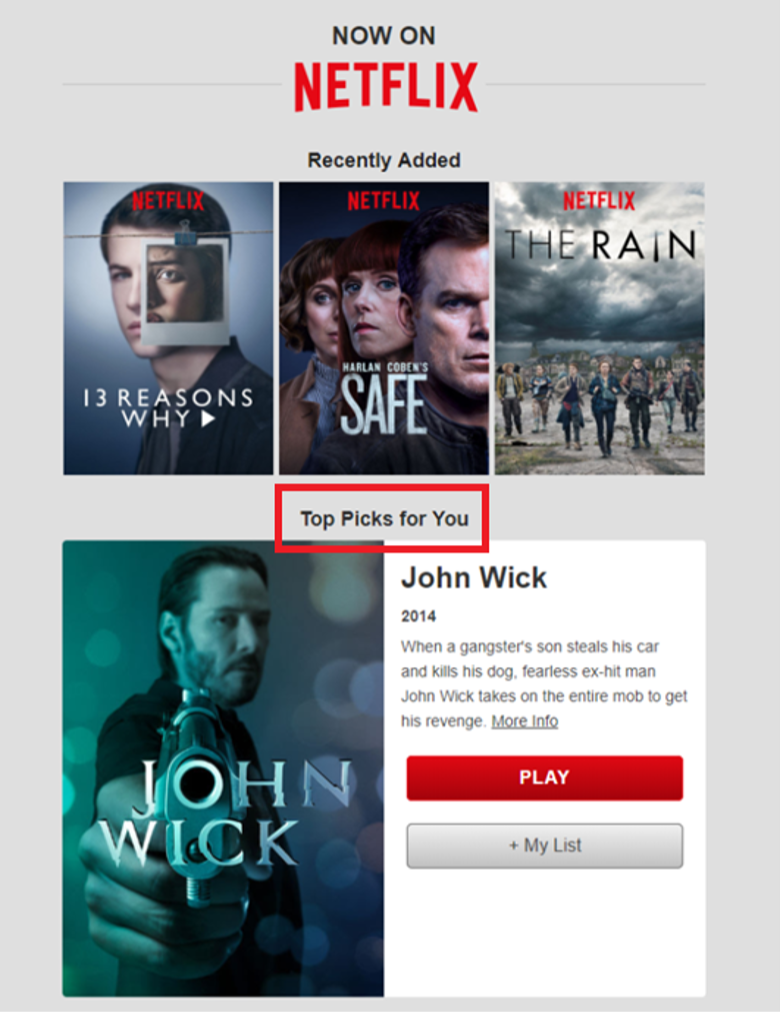 At the bottom of each email, Netflix includes a CTA that users can click to easily rejoin the service.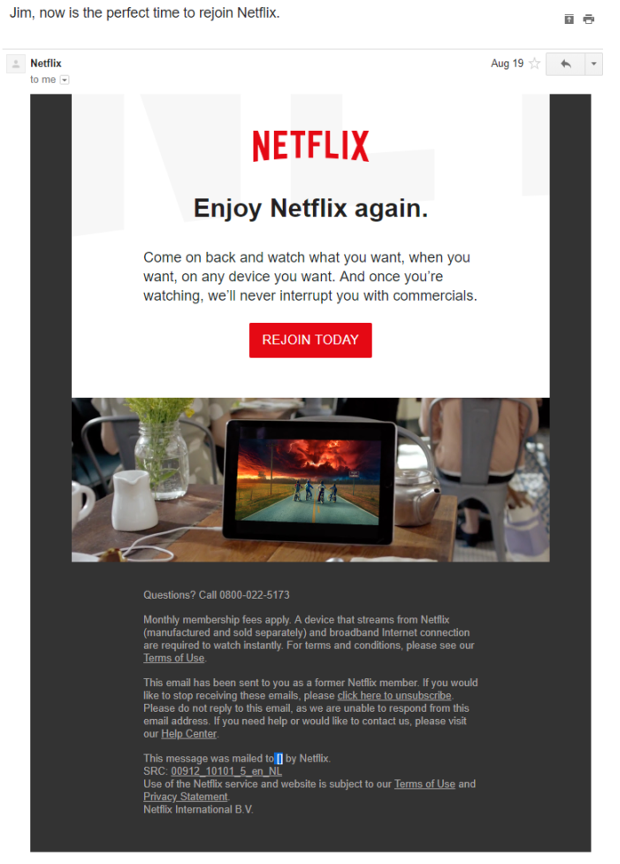 Source: Moosend
Patagonia's weather-based campaigns
Patagonia provides an example of how to use demographic information about your audience – in this case, their locations – to your advantage when sending drip campaigns. In this campaign, Patagonia sent emails featuring products based on local weather patterns, meaning someone in Minnesota in February got recommendations for down parkas and mittens, while someone passing the winter months in Miami saw swimsuits and sandals in their email.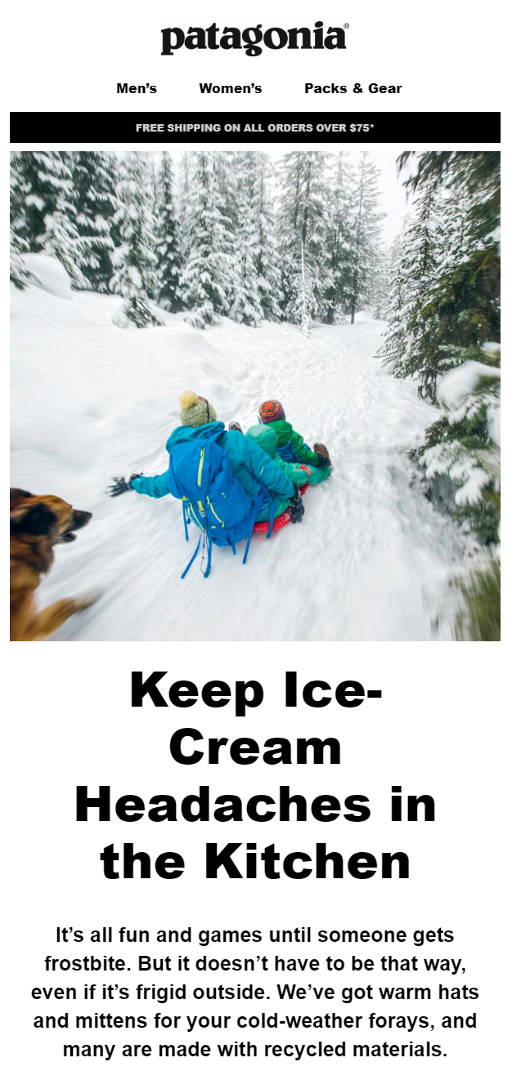 Source: Moosend
The emails included clear CTAs, like "shop warm hats," to make it easy for customers to enter the buying journey.
Zulily's cart abandonment campaigns
According to Fresh Relevance, 55.9% to 68.7% of online shopping carts are abandoned before a customer makes a purchase, which means your business could be missing out on a lot of potential sales. An abandoned-cart reminder, like the one below from Zulily, can reduce your abandonment rates.
In the email, Zulily included an image of what the customer was shopping for with a CTA that made it easy to return to the cart. The email also reminded them the product might disappear if they don't purchase it soon.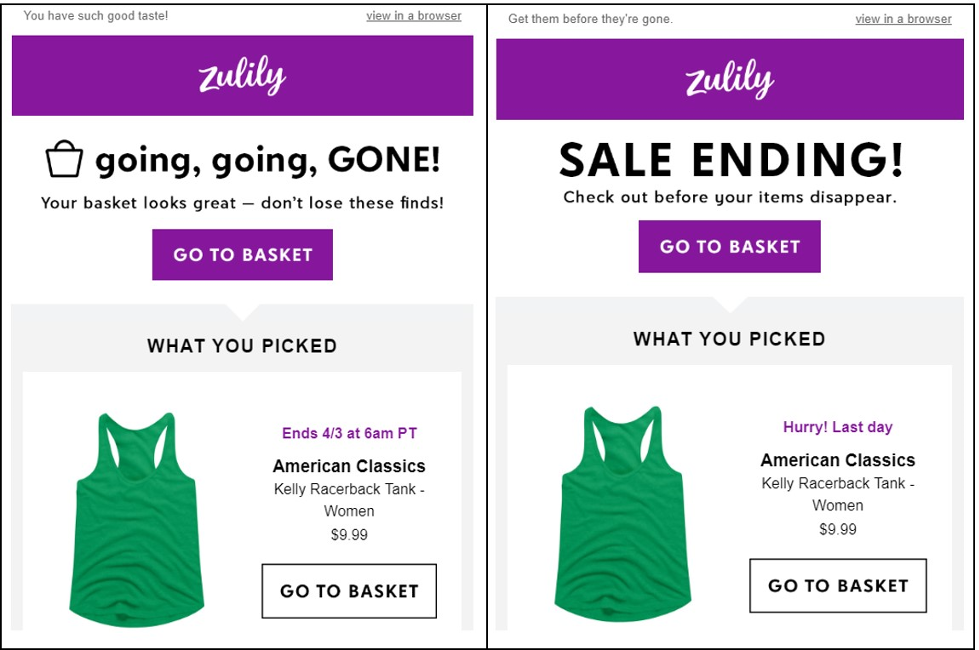 Source: Constant Contact
Zulily was able to inspire a sense of urgency, making the user eager to return to their cart to complete the purchase.
A steady drip of success
Drip campaigns can keep current customers engaged with your business, and they can re-engage former customers too. They're also among the least taxing parts of any robust marketing strategy, since they're powered by marketing automation software. With the right automation platform and smart planning, your drip campaigns can skyrocket your marketing email open rates and click-through rates – and your sales revenue.
The other option is to hire designers at a more affordable rate. There are many companies out there that offer web design services at an affordable price.